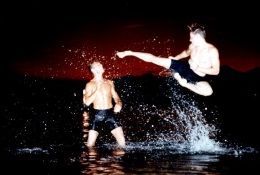 Mixed Martial Art & Fitness Ninja Training Camps
Short and Long term live-in personal growth programs
Total Warrior Ninja Training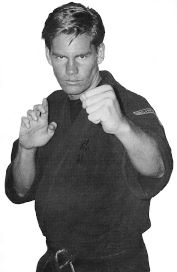 Total Warrior has been teaching and running Mixed Martial Art programs and Ninja Training Camps for more than 20 years. Our Master Instructor Rick Tew began teaching in a martial arts school at 17, started his first dojo at 19 and moved to Europe at 21 to develop his own system of martial arts – Rick Tew's Martial Science.  But not only that…
Total Warrior has been the leader in this industry and other similar programs and camps you find on the Internet in his market, have simply copied and continue to copy his programs and teachings.
Our Ninja Camps have taught people from all walks of life to take advantage of his proven strategies for enhancing ones mind, body and spirit. In fact, these strategies were so effective, many of our students have utilized what they learned with us to become leaders in their industry.
Our system of martial art is fun, effective and is the ultimate foundation for improving life skills through martial arts.  It doesn't matter what system or background you have – our program will give you the edge you need and are looking for. We have run martial art schools, seminars, Ninja camps and live-in martial arts programs for the last 20 years.  He has  taught all over the world.
Almost every student has a story to share about Total Warrior has changed their life, thanks to the strategies he has packed into our "Live in Martial Art Camps" and courses.

"I experienced a great deal during my stay and training Mr. Tew. I have gained massive amounts of experiences that have helped mold me into a superior form of myself. I have done more in a few months of being there then some people have done in their entire lives, I think that speaks enough for itself."Kris Butler - Canada. Founder 123abetterme

"This is the place where anyone that likes exercise will enjoy. You can be an expert martial artist, and still you will be a beginner somewhere in the system, be it weapons, body movement or maybe you'll pee your pants on the side of a rock 500 feet high. So this is a place where EVERYONE can learn something. "Cedric Cobban - Co-Founder of PeerTracks
Martial Arts for Every Type of Person
---
---
Ninja Training Programs with Sensei Rick Tew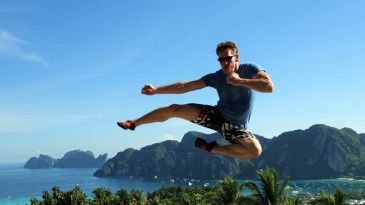 Private Group Training in Thailand (January – June)
Located on the beautiful island of Koh Samui, the Thailand Ninja Camp is one of Rick Tew's most popular programs. You will learn real mixed martial arts and modern Ninjitsu training. This VIP program has optional upgrades: private housing, meal, airport pickup, and more.
Perfect for students new to the martial arts.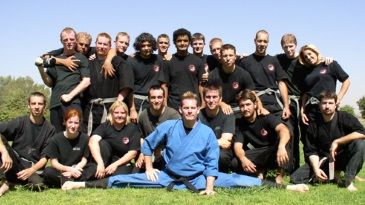 Ninja Martial Arts Camp in California (July 1st to 14th)
This is our Summer Martial Arts camp located just outside of Yosemite National Park in Fresno California. Students may join for 1 – 4 weeks. Training starts at 9am and will continue to 5pm.
Great for beginner and advanced martial artists.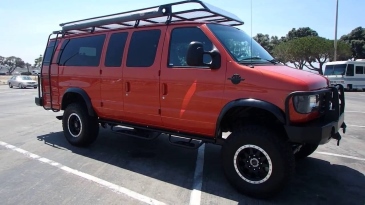 Travel & Training Tour in USA (July 15th to 28th)
Travel & Training is your ultimate martial arts vacation. Travel through various parts of California, Arizona, Nevada and Utah. Incredible hiking, camping, climbing, martial arts, and fitness.
Experience Total Warrior Ninja training while traveling through the best of the Southwest United States.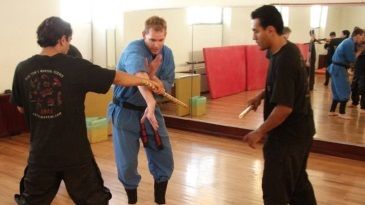 Total Warrior Instructor's Program (1 Year)
Become a Martial Arts Instructor, earn a real black belt, and have the dream job!
Upon completion of the Total Warrior Instructor's Program, we'll certify and help you teach as an instructor where you can make a full time living teaching Martial Arts.
---
About Our Live-In Martial Arts Camps
Why Total Warrior Ninja Camps?
The Ultimate Martial Arts, Adventure, and Personal Growth Experience. The Total Warrior Program Ninja camps are designed to teach you a variety of martial arts and fitness. Our programs are for beginner and advanced students. No matter your skill or fitness level, we adjust to your own strengths and weaknesses.
You'll learn Modern Ninjitsu training and mixed martial art concepts. It's packed with intensive training and offers development in a variety of martial art disciplines and skills. To sum it up…. this is a lifetime opportunity available right now – you won't find this type of training or this unique of an offer anywhere else in the world!
Whether you want to learn how to teach the martial arts, become a modern Ninja, get in shape fast with our fitness boot camp, or be part of an adventure, we can help. We don't just teach martial arts. The knowledge gained as a Total Warrior student is valuable in both life and work. We also help those that want a career in the Martial Arts, fitness or adventure! We offer short and long term live-in martial art boot camps and fitness programs.

"The unique thing about the Martial Science is that it is open to new ideas and techniques and therefor ever growing; it encompasses a wide range of activities from ground fighting to rock climbing, from knife fighting to survival skills, everything you can possibly associate with Martial Arts, we do. It is dynamic; it is modern, young, fun and very effective in real life situations."Marco Van Der Weijden - Netherlands

"This is one of the best periods in my life, in which I learned a lot, lived through a lot of great experiences, met a lot of people, made many new friends and was privileged to be able to share my knowledge and skills with my fellow RTMS (Rick Tew's Martial Science) team members and students"Ortwin Cyrus - Netherlands. Co-founder "Kiboco" Kite Board School
The World's FIRST Ninja MMA Training Camp
Our Total Warrior Programs are a mix Martial Arts / Ninja Training that includes adventure travel that brings you balance in mind, body and spirit:
Mind (meditation, focus, success & brain power)
Body (fitness, health, yoga & Multi-Martial Arts)
Spirit (outdoor adventure, travel & new friends).
You'll get Modern Ninjitsu training and mixed martial art concepts. It's packed with intensive training and travel and offers development in a variety of martial art disciplines and skills. To sum it up…. this is a lifetime opportunity available right now – you won't find this type of training or this unique of an offer anywhere else in the world!
Live-in Martial Arts Camp and Black Belt Certification
Mixed Martial Art & Fitness
Ninja Training Boot Camps
Short and Long term live-in personal growth programs
If you are a self-motivated individual, love to travel, looking for a challenge and a change of life,  fill out our form.
"Hi, this is Rick Tew and I would like to thank you for taking the time to read this life changing offer. In addition, although I am going to attempt to inspire you into action, really you and only you can make a difference in your life. Our Total Warrior programs are like no other. This isn't a class, seminar or a weekend getaway. It is a complete change of life and your style of living. We shape our destiny through our decisions to take action." Master Instructor Rick Tew
---
Frequently Asked Questions
The Total Warrior Ninja Training focuses on five key areas:
• Ninjistsu and Multi-Martial Arts
• Fitness & Health
• Mind Training & Self-Help
• Realistic Self-defense
• Full contact sparring & grappling
---
Contact Us Now to Kick Start Your Life Today!