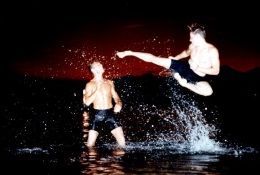 Live-in Martial Arts & Fitness Camps
Short and Long term live-in personal growth programs
Sign Up & General Inquires
There are 4 ways to contact us:
1- WhatsApp
You can contact our sales department directly by using the phone chat application, WhatsApp.  Find us under this number: +1 (503) 409-9326
2- Email
For general inquires, please send an email to: [email protected]
3- By Phone
Call this number and leave a detailed message.  Our staff will call you back within 24 hours: 1-818-975-0727
4- Contact Form
Or simply fill in the form below and one of our representatives will contact you within 24 hours.
(Please note, Rick Tew and TotalWarrior.com are not writing any forwards to books or endorsing new products at this time.)