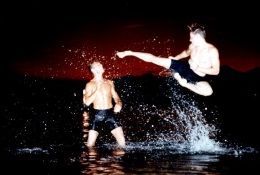 The Philosophy of Mind, Body, Spirit
Short and Long term live-in personal growth programs
Martial Arts Travel & Training Adventures = Spirit
Mixed Martial Arts & Realistic Self-Defense = Body
---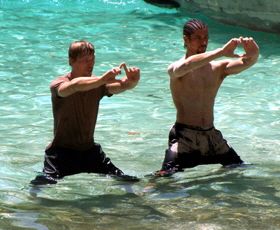 Most members will be joining our program for training in the Martial Science – Modern Ninjitsu. Since this is our first goal, it is important that we meet all of our students expectations. In order to do this, we feel it is important to teach all areas of the martial arts. This will include a variety of training and philosophies that are:
Effective
Complete
Exciting
The Martial Science / Ninjitsu is a combination of effective usable principles that makes it into an elite system. Students who take part in this intensive program will be trained in the system from and programs that Rick Tew's Martial Science / Ninjitsu has to offer.  This program is available for beginning to advanced students and adventurers alike.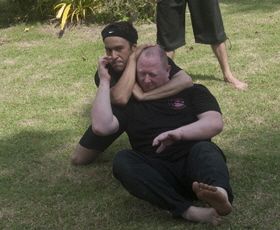 Members also participate in exclusive "Sensei Seminars" where Sensei Tew teaches a solid amount of skills and techniques in a unique environment.
The following is a small list of what your Ninja Training can expect at The Camp/College of Martial Science:
Training on various terrain
Development in strikes and kicks
Breathing and flexibility training
Training with the sword, stick, knife, staff and more
Body control: gymnastics, stealthing/invisibility/camoflauge and combat movement
Magnificent 7 self-defense strategy
Mental preparation and training for control
Stunt fighting and fight choreography
Tactical skills and Firearms training
This is just a small list to inform those who have not read through the RTMS training programs. A variety of the Martial Science training will be taught during your travel program.
We are capable of teaching all levels and ranks regardless of age or previous martial arts background. For more information regarding the Martial Science, refer to the RTMS page.
The basic techniques of Tew's Martial Science encompass a wide range of activities and instruction that are both realistic and effective. Body movements, punches, kicks, rolls, and falls are all integral components of hand-to-hand combat. Eventually, after several years of training, you will begin to develop your own style that is tailored to your personal strengths and weaknesses. If your dream is to become an instructor and to help teach and travel with Rick Tew's Martial Science and TTT then you should consider our Total Warrior program or our Teach in Europe course which gets you started in only 2 months.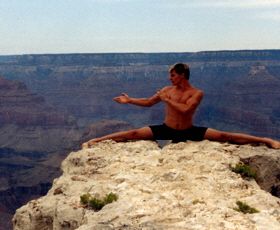 If you focus on gaining at least one level every two months, you can be teaching in less than 1 year.  However, you are allowed to begin teaching up to your certified level.  Each level includes two skills from the following 9 areas of focus:
Stance's
Roll's
Fall's
Strike's
Kick's
Body Movement
Knowledge (mind)
Combat and Self-defense strategies
Weapon's
RTMS is not simply a sport or style of martial art. It is a Martial Science and a way of life. Its strength is based on the student having an open mind. You, as this student, will train in many different areas, techniques, and fields under the guidance of mind, body, and spirit . If a warrior knows only one style, it will be easy for his enemy to determine how he/she will move, think, and attack. If a warrior knows many arts and adapts them to his/her changing environment, he/she will be an unpredictable and formidable opponent in any situation – what we call a "Total Warrior."
The training you will endure is a vehicle to achieving an improved self-worth. Our motives are drawn from our desires for happiness, freedom, and adventure. The RTMS way of life will always be with you in training or in spirit. We look forward to sharing with you the adventures and joys of a lifetime and welcome you to the organization dedicated to giving you the best.
Winjitsu The Mental Martial Art = Mind Control Skills